Modern / Jazz / Movement
See also: Drama in Education.
The Body Eclectic: Evolving Practices in Dance Training
Edited by Melanie Bales & Rebecca Nettl-Fiol
This rich collection of essays and interviews explores modern-dance technique training from the past fifty years. Focusing in the culture of dance, editors Bales and Nettl-Fiol examine choreographic process and style, dancer agency and participation in the creative process, and changes in the role and purpose of training. Softcover, 265 pp. $43.00.
Holistic Bodywork for Performers: A practical guide
Janet Free & Nicky Ramsay
This book gives hands-on practical guidance for some of the most important bodywork practices being used in theatres and training centres, including yoga, tai chi, Alexander Technique, Feldenkrais and Contact Improvisation. Alternative therapies like shiatsu and reflexology, which provide pathways to understanding the body's natural balancing and energy systems, are also introduced with accessible guidelines for safe practical use. Softcover, 159 pp. $32.95.
Your Move
Second Edition
Tina Curran & Ann Hutchinson Guest
Your Move establishes a fresh and original framework for looking at movement. Examining the basic elements of dance, termed the Movement Alphabet, the authors use illustrations of basic movement possibilities and concepts combined with simple Motif symbols to provide a new way to see, to understand, to teach, and to choreograph dance. Each copy of Your Move comes with a CD of the music especially composed for the mmany Reading Studies. Softcover, 593 pp. $51.50.

How You Stand, How You Move, How You Live:
Learning the Alexander Technique to Explore Your Mind-Body Connection and Achieve Self-Mastery
Missy Vineyard
The first authoritative, comprehensive and all-new guide to the Alexander Technique to be published in more than twenty years - for novices, teachers, and students of all levels. Missy Vineyard fully illuminates the benefits to be reaped by mastery of the Alexander Technique, which include: release from acute or chronic physical pain, enhanced mental attention and focus, reduced anxiety, improved balance and co-ordination, and increased ease and efficiency performing precise movement skills. Softcover, 322 pp. $23.50.

Beyond Dance: Laban's Legacy of Movement Analysis
Eden Davies
This book offers students of dance and movement a brief introduction to the life and work of Rudolf Laban, and how this work has been extended into the fields of movement therapy, communications, early childhood development, and other fields. Refreshingly free of jargon and easy to understand, the work offers dance students -- and others interested in human movement -- a full picture of the many possibilities inherent in Laban's theories. Softcover, 163 pp. $39.00.

The Nikolais/Louis Dance Technique
Alwin Nikolais & Murray Louis
Finally, the definitive resource for understanding the influencial dance technique developed by two pioneers of modern dance, Alwin Nikolais and Murray Louis. This book combines the practical with the philosophical in a lively guide that captures the spirit and wisdom of these legendary professionals. The Nikolais/Louis technique is presented in a week-to-week classroom manual, complete with class premises, improvisation and composition suggestions. The book is supplemented by a fascinating DVD. Softcover, 259 pp. $42.95.

A Sense of Dance: Exploring Your Movement Potential
Constance A. Schrader
This edition is written for true beginners -- students who are exploring the art of dance for the first time. Inside you'll find a comprehensive introduction to the history, theory, technique, and social function of dance. Perfect for use in the classroom. Softcover, 205 pp. $33.95.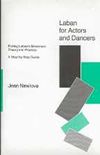 Laban for Actors and Dancers
Jean Newlove
A Handbook for teachers and students wanting a simple, practical introduction to the Laban system of movement. Softcover, $35.95.



Ear Training for the Body
Katherine Teck
Approaches music from the dancer's point-of-view. Explains variables that pertain to dancers, such as rhythm, dynamics, pitch, harmony and how to crete music for unique dance purposes. 320 pp. $34.95.
Basic Concepts in Modern Dance
Gail Cheney
A brief introduction to modern dance and body movement techniques through a series of simple exercises. 115 pages. $26.95.

Modern Dance Forms
Louis Horst
Co-authored with Caroll Russell 150 pages. $17.95.


The Dancer Prepares
James Penrod
5th edition. This new edition includes new information on partner awareness, injury prevention, key trends in modern dance in the 90's and new techniques for developing movement technique. 104 pages. $36.95.

Jump into Jazz 5th ed.
Minda Goodman Kaines co-authored with Esther Kan. Descriptions of all basic dance steps, combined with information on alignment, improvisation, ballet and more. $39.95.

Jazz Dance
Class Gus Giordano
A thorough guide for student/teacher to the dance form. Begins with a glossary and an anatomical section. Each exercise is accompanied by a photography, taking the reader from warm-up to complex jazz combination. 209 pp. $29.95.

Jazz Dance:
The Story of American Vernacular Dance
Marshall Stearns, co-authored with Jean Stearns
Foreword and Afterword by Brenda Bufalino.
Originally published in 1968, Jazz Dance has maintained its stature as one of the few comprehensive looks at the history of African-American dance in the U.S. over the past 200 years. From the New Orleans of the 19th century to television productions, nothing is left out of this reference book that draws from some of the performers themselves, such as 'Pigmeat' Markham and Teddy Drayton. The book also includes photographs of the dances and a filmography. 272 pp. $25.50.

Luigi's Jazz Warm Up
Luigi
From the beginning to the advanced student, this complete body warm-up also provides an introduction to Luigi's lyrical jazz style and technique, based on anatomically sound principles using centre and floor work. 181 pp. $32.95.

Bone, Breath & Gesture
Don Hanlon Johnson
A collection of writings on the principles and techniques bythe pioneers of bodywork and body awareness disciplines which make up a historical record of somatics from Ida Rolf to Elizabeth Behnke. 389 pp. $33.95.