Film Music & Scoring
The Hollywood Film Music Reader
Mervyn Cooke
A rich and informative look at the experiences of composers working under high pressure in the U.S. film industry, The Hollywood Film Music Reader brings readers from film's earliest days to the modern blockbuster era. Included are vivid firsthand accounts from composers such as Elmer Bernstein, Aaron Copland, Jerry Goldsmith, Bernard Herrmann, Henry Mancini, Thomas Newman, Andre Previn, David Raskin, Miklos Rozsa, Max Steiner, Dimitri Tiomkin, and John Williams. Softcover, 382 pp. $38.50.
Master Handbook of Acoustics 5th Edition
F. Alton Everest & Ken C. Pohlmann
Fully expanded to cover the latest methods and software tools, Master Handbook of Acoustics, Fifth Edition presents clear explanations of acoustic phenomena and provides a hands-on approach to room design. Learn how to perform acoustic measurements, choose room dimensions, assign speaker placement, analyze response curves, and design and install sound absorbers and diffusers. Softcover, 510 pp. $49.95.
The Reel World: Scoring For Pictures
Jeff Rona
Packed with case studies and insiders' tips, The Reel World guides you through the world of creating music for film, TV, and video. You'll find proven success strategies - and learn the pitfalls to avoid - through examples drawn from actual scoring projects by industry pros. Softcover, 312 pp. $34.95.
The Rest is Noise: Listening to the 20th Century
Alex Ross
The Rest Is Noise takes the reader inside the labyrinth of modern sound. It tells of maverick personalities who have resisted the cult of the classical past, struggled against the indifference of a wide public, and defied the will of dictators. Whether they have charmed audiences with pure beauty or battered them with pure noise, composers have always been exuberently of the present, defying the stereotype of classical music as a dying art. Hardcover, 624 pp. $34.50.
Inside Film Music
Christian DesJardins
Through its more than forty lively, insightful interview, Inside Film Music delves deeply into the creative process. It covers every current style of film music, the essence of what it means to write score motion pictures, the role of the artist in commercial enterprises... and much more. Softcover, 357 pp. $25.50.
Audio Sampling: A Practical Guide
Sam McGuire and Roy Pritts
Audio Sampling explores the once mysterious art and science of creating virtual instruments through sampling. Leaving no stone unturned, this text also delves into ear training and orchestration to prepare you to extract the most from your sampling experiments. Softcover, 212 pp. $36.95.
Hitchcock's Music
Jack Sullivan
Over the course of a long and brilliant career, Alfred Hitchcock changed the way we think about film music. This is a fascinating exploration of the essential role that music played in Hitchcock's movies, from Stage Fright to Vertigo to Family Plot. Softcover, 354 pp. $22.95.


Composers in the Movies
John C. Tibbetts
Amadeus, Yankee Doodle Dandy, Swanee River, Rhapsody in Blue: even before the beginning of sound, filmmakers have dramatized the lives of composers. Movie biographies have depicted composers as diverse as Wolfgang Amadeus Mozart, George M. Cohan, Stephen Foster, and George Gershwin. In this enticing book, the first devoted entirely to such films, John C. Tibbetts surveys different styles and periods from the Hollywood of the 1920s and 1930s to the international cinema of today, exploring the role that film biographies play in our understanding of history and culture. Hardcover, 365 pp. $56.00.

Body and Soul: Jazz and Blues in American Film 1927 - 63
Peter Stanfield
Alongside extensive, thought-provoking, and lively analysis of some of the most popular jazz and blues songs of the twentieth century, the book contains new work on blackface minstrelsy in early sound movies, racial representation and censorship, torch singers and torch songs, burlesque and strippers, the noir cityscape, the Hollywood Left, and hot jazz. Softcover, 213 pp. $33.95.

Music in Film: Soundtracks and Synergy
Pauline Reay
This concise and exciting book discusses a broad range of films -- from classical Hollywood through to American independents and European art films -- and offers a brief history of the development of music in film from the silent era to the present day. In particular, this book explores how music operates on a narrative, emotional and cultural level. Softcover, 135 pp. $25.95.

Silent Film Sound
Rick Altman
Because silent cinema is widely perceived as having been exactly that -- silent -- no one has fully examined how sound was used to accompany the films of this era. Silent Film Sound reconsiders all aspects of sound practices during the entire silent film period. Based on extensive original research and accompanied by gorgeous illustrations, the book challenges the assumptions of earlier histories of this period in film and reveals the complexity and swiftly changing nature of American silent cinema. Hardcover, 462 pp. $70.00.


Off the Planet: Music, Sound, and Science Fiction Cinema
Philip Hayward
Off the Planet comprises a lively, stimulating and diverse collection of essays on aspects of music, sound, and science fiction cinema. Following a detailed historical introduction to the development of sound and music in the genre, individual chapters analyse key films, film series, composers and directors in the post-War era. Softcover, 214 pp. $34.95.
Jazz on Film: The Complete Story of the Musicians & Music Onscreen
Scott Yanow
Scott Yanow reviews and rates over 1,300 Hollywood movies, DVDs, videos, documentaries, shorts, and available TV specials which include, at the very least, a brief onscreen appearance of a jazz musician or singer. Including an essay on the history of jazz on film, this is the definitive guide to jazz artists and their music on the big and small screens. Softcover, 314 pp. $34.95.
Portraits of Johnny: The Life of John Herndon Mercer
Gene Lees
Moon River, Laura, That Old Black Magic, Satin Doll, Days of Wine and Roses -- the list of Johnny Mercer's indelible songs is endless. This intimate biography of the great songwriter is also a deeply affectionate memoir by one of his best friends, music historian and songwriter Gene Lees. Both poignant and candid, this intimate portrait reveals a conflicted artist -- a man of immense talent who, despite being much admired and loved, was never truly understood. Hardcover, 360 pp. $39.95.
100 Modern Soundtracks
BFI Screen Guides
Philip Brophy
This remarkable and unique perspective on film aesthetics examines the hitherto underexplored aural dimension of cinema. 100 Modern Soundtracks takes the unique approach of discussing the sonic virtues of canon classics such as Apocalypse Now, Citizen Kane, and Psycho alongside critically maligned movies like I Spit on Your Grave, Resident Evil, and The Haunting. Also included is a fascinating preface which introduces cinema's alternate dimension of sound design and film scoring. Softcover, 262 pp. $29.95.
On The Track: A Guide to Contemporary Film Scoring
Fred Karlin & Rayburn Wright
On the Track offers a comprehensive guide to scoring for film and television. It covers everything from the nuts-and-bolts of timing, cuing, and recording through balancing the composer's aesthetic vision with the needs of the film itself. With over 100 interviews with noted composers, and 150 musical excerpts from film scores, this book will be appreciated equally by both students and professionals. Softcover, 533 pp. $75.00.
Popular Music and Film
Ian Inglis
Written by a range of international specialists, this collection includes case studies of Sliding Doors, Topless Women Talk About their Lives, The Big Chill, Moulin Rouge, and Lara Croft: Tomb Raider, and considers the work of populist musicians such as The Beatles, Jimi Hendrix and Sting, and the role of black pop divas in Lady Sings the Blues and What's Love Got To Do With It. An intelligent and accessible exploration of the subject. Softcover, 205 pp. $32.99.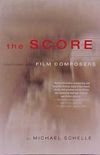 The Score: Interviews with Film Composers
Michael Schelle
A unique collection of lively, indepth musically savvy conversations with contemporary film composers of every style, background and position in the Hollywood hierarchy, The Score brings together a broad cross section of current thoughts about the process of film composing, styles of film music and working within today's entertainment industry. $30.95.

Glass: A Portrait
Robert Maycock
Philip Glass is America's most successful living classical composer. He has composed ground-breaking music for operas, films, and orchestras. His work has influenced almost every form of contemporary music -- from jazz to techno. With the help of wide-ranging interviews and unprecedented access to the Glass archives, author Robert Maycock has put himself in a unique position to appraise Glass's life and work to date and to report on new directions. Softcover, 191 pp. $26.95.