$100,000 Siminovitch Prize in Theatre Awarded to Toronto Playwright, Daniel MacIvor
MacIvor selects BC Playwrights as Protégés
From the Siminovitch website.
TORONTO, October 27, 2008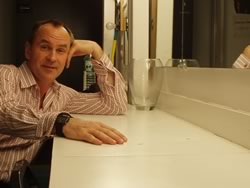 BMO Financial Group announced that Toronto playwright Daniel MacIvor was named the 2008 recipient of the Elinore & Lou Siminovitch Prize in Theatre, Canada's largest annual theatre award. MacIvor was chosen from a short list of five finalists including Morwyn Brebner (Toronto, ON); Daniel Danis (St-David de Falardeau, QC); Colleen Murphy (Toronto, ON); and Larry Tremblay (Montreal, QC). They were selected from 26 nominated Canadian playwrights.
"In choosing Daniel MacIvor as the recipient of the 2008 Siminovitch Prize, the jury wanted to recognize the voice he gives through his plays to those for whom solitude provides a perception of the world through a different set of optics," explained Leonard McHardy, Jury Chair. "Daniel's playwriting brings to the stage moments in life for which there are no words, exploring those things that escape categorisation by language."
MacIvor has written nearly 20 plays of which 15 have been published. His plays include See Bob Run, Wild Abandon, The Soldier Dreams, You Are Here, How It Works, His Greatness, and A Beautiful View. He also created the solo performances of House, Here Lies Henry, Monster and Cul-de-sac with long time collaborator Daniel Brooks. MacIvor has won several national awards including two Chalmers New Play Awards and a 2006 Governor General's Award for Drama for his collection of five plays called I Still Love You.
"The Siminovitch Prize reminds me that theatre has the power to transform lives," said MacIvor during his acceptance speech at First Canadian Place. "The lives of the practitioners transform – because certainly mine has – and the lives of those audiences who come into the dark rooms with their minds and their hearts open, who are filled with questions and find a moment of peace in the presence of something innately familiar."
Born in Cape Breton, Nova Scotia, MacIvor is a graduate from the Dalhousie University Theatre Department and George Brown Theatre Department. In addition to playwriting, MacIvor is also a screenwriter and filmmaker and was Artistic Director of the international theatre touring company da da kamera from 1987-2007.
"As a long-time supporter of the arts in Canada, I am thrilled to congratulate Daniel on this outstanding achievement, from all of us at BMO Financial Group," said Gilles Ouellette, President and CEO, Private Client Group, BMO Financial Group. "The Siminovitch Prize recognizes excellence in Canadian theatre and Daniel MacIvor exemplifies the extraordinary talent that can be cultivated in our country, given support, encouragement and mentorship."
MacIvor was awarded a cheque at a ceremony on Monday, October 27 for $75,000 and he chose Vancouver playwrights, Daniel Arnold and Medina Hahn, as his protégés, who received $25,000. The Siminovitch Prize is structured this way to demonstrate the importance of mentorship in Canadian theatre.
Daniel Arnold and Medina Hahn, protégés
Arnold and Hahn are recipients of the New York Fringe's Overall Production Award for their play Tuesdays & Sundays. The play also garnered three Edmonton Sterling Awards, was published twice and broadcast as a radio play on CBC and BBC. Their most recent play, Any Night, received the jury prize for Outstanding New Play in Toronto's Summerworks Festival and will be published next year. Both Arnold and Hahn are professional actors and writers living in Vancouver, B.C. and produce under the company DualMinds. For more, visit www.dualminds.com.
The Siminovitch Prize 2008 Jury
The Siminovitch Prize jury was chaired by Leonard McHardy, co-owner and co-founder of TheatreBooks in Toronto. Other Jury members included:
Patricia Hamilton, Toronto, Ontario, a Canadian actress with more than 45 years on the stage;
Paul Lefebvre, Ottawa, Ontario, a translator, stage director, dramaturge and theatre scholar;
Vicki Stroich, Calgary, Alberta, a dramaturge, programmer and producer with Calgary's Alberta Theatre Projects; and
John Van Burek, Toronto, Ontario, a director, teacher, translator, and Founding Artistic Director of Toronto's Pleiades Theatre.
About the Siminovitch Prize in Theatre
The Siminovitch Prize in Theatre was introduced in 2001 and dedicated to renowned scientist Lou Siminovitch and his late wife Elinore, a playwright. Sponsored by BMO Financial Group, Canada's largest annual theatre arts award recognizes direction, playwriting and design in three-year cycles. Previous recipients include:
Toronto director Daniel Brooks in 2001;
Montreal playwright Carole Fréchette in 2002;
Montreal designer Louise Campeau in 2003;
St. John's director Jillian Keiley in 2004;
Toronto playwright John Mighton in 2005;
Toronto set and costume designer Dany Lyne in 2006; and
Montréal director Brigitte Haentjens in 2007.
– 30 –
Media Contacts:
Internet:
Full biographies, photos and video are available at www.siminovitchprize.com.
Selected plays by Daniel MacIvor available at TheatreBooks:

His Greatness
Daniel MacIvor
His Greatness is a great piece of theatre. More than mere homage to Tennessee Williams, Daniel MacIvor's superb study of a fading Southern playwrights is a finely detailed story with nuance to spare. Softcover, 80 pp. $16.95.


I Still Love You: Five Plays by Daniel MacIvor
Daniel MacIvor
Never Swim Alone is a competition. "If you let it, compassion will kill desire. Especially the desire to be first. And being first, my friends, is the point". The Soldier Dreams is a darkly comic play about life, death and grief. As a young man, David lies dying of AIDS as his family gathers around his bed trying to understand his delirious mutterings. While the living struggle to find the meaning in David's dying words, MacIvor takes the audience inside David's imagination to recapture significant moments in his life. In You Are Here, You are about to meet Alison, who searches her life for meaning. In a series of luminous encounters, we're drawn into Alison's world: love that fades, hopes that die, and enduring friendship that offers the promise of redemption. In On It is a spiralling narrative about a dying man trying to make plans for the end, a pair of lovers trying to make it work and two men trying to make a play. A world where accidents happen. A story about control. A play that keeps its options open. Softcover, 250 pp. $29.95.

Marion Bridge
Daniel MacIvor
Three women in their thirties come "home" to Cape Breton to be with their dying mother. Each is trying to reconcile what they have become with what they thought they wanted out of life and with what they thought their parents wanted for them. Nothing, of course, has turned out the way anyone imagined it would. M-1, F-4. Softcover, 127 pp. $18.95.

Cul-de-sac
Daniel MacIvor
In his latest collaboration with Daniel Brooks, MacIvor plays the role of Leonard, who narrates the events leading up to his murder while trying to understand them himself. Through the course of the play, we peer behind the curtains of his neighbourhood as MacIvor plays the multiple characters who bare witness to Leonard's life and death. With an introduction by Daniel Brooks. Softcover, 80 pp. $15.95.


In On It
Daniel MacIvor
A spiralling narrative about a dying man trying to make plans for the end, a pair of lovers trying to make it work and two men trying to make a play. "...in addition to being immensely entertaining, it also happens to challenge our perceptions of reality, identity and evanescence of existence." -- Philadelphia Inquirer. $12.95.




The Soldier Dreams
Daniel MacIvor
A play about love and death, family and meaning. Winner of two Dora Mavor Moore Awards. " Daniel MacIvor's plays have been labeled everything from postmodern to metatheatrical, but these are cold terms that do nothing to capture the warm, accessible soul of a writer whose honesty and compassion for both audiences and his characters is at the heart of all his work, including The Soldier Dreams." -- Variety. $12.95.

House Humans
Daniel MacIvor
Winner of the 1991 Chalmers Canadian Play Award, House centres around Victor and his short takes on the walking wounded that illustrate man's inhumanity to himself. $13.95.

Here Lies Henry
Daniel MacIvor and Daniel Brooks
A man alone in a room with a mission to tell you something you don't already know. "A dazzling impressive combination of off-the-wall contemplation, mordant wit, and razor-sharp timing." -- The Independent, London, UK. $12.95.

Never Swim Alone & This Is A Play
Daniel MacIvor
Two from MacIvor, one a competition and the other a play about a play. $15.95.