Screenplays by title A to C
Backlist -- organized alphabetically by title

The Actors
Conor McPherson
A struggling Irish actor helps an actor friend to con a significant amount of cash out of a Dublin gangster. They find themselves unwittingly drawn into a large-scale heist which requires all their acting talents and more to avoid being rumbled. Written and directed by Conor McPherson, The Actors is based on a story by Neil Jordan, whose company produced the film. Softcover, 153 pp. $27.00.
All or Nothing
Mike Leigh
Mike Leigh's All or Nothing focuses on the troubled relationship between a London couple whose love for eachother is rediscovered when one of them becomes dreadfully ill. Softcover, 153 pp. $20.00.
American Splendor: The Official Shooting Script
Robert Pulcini & Shari Springer Berman
American Spendor follows the exploits of comic book artist Harvey Pekar on 3 levels of reality: within the context of a dramatic feature film, in an animated world, and in archival documentary footage. This is the official shooting script of the 2003 Sundance Grand Jury Prize-winning film. Softcover, 116 pp. $21.95.
Art School Confidential
Daniel Clowes
The original screenplay for the film Art School Confidential, featuring sixteen pages of behind-the-scenes artwork, photographs, and the original comic strip "Art School Confidential" in color for the first time. Softcover, 181 pp. $19.95.
Atanarjuat: The Fast Runner
Paul Angilirq
Published here for the first time is the world's first Inuktitut screenplay, by Paul Apak Angilirq, as well as the English translation by Norman Cohn. Also included are artists' statements by Apak, Cohn, and director Zacharias Kunuk, cultural commentaries by noted anthropologist Bernard Saladin d'Anglure, and hundreds of photographs, many behind-the-scenes.Softcover, 240 pp. $29.95; Hardcover, $42.00.



The Aviator
John Logan
A daredevil who risked his life in aviation, a filmmaker who risked his fortune in cinema, a playboy who risked his heart with Hollywood starlets: these are but a few of the facets of Howard Hughes. John Logan's screenplay, for the film by Martin Scorsese, is a rich and penetrating examination of one the most fascinating and complex figures of the 20th century. Softcover, 194 pp. $14.95.

Away We Go
Dave Eggers & Vendela Vida
Longtime couple Verona and Burt are expecting a baby, and the impending child's only living grandparents are moving to -- where else -- Belgium. So Burt and Verona head out on the road, across America, looking for the right place to call home. Along the way they encounter a succession of strange and hilarious friends and relatives, most of whom have no idea what they're doing. In the end -- with and despite the help of those they meet on their journey -- Burt and Verona come closer to an understanding of their own definition of home and family. Softcover, 199 pp. $16.50.

The Bad Lieutenant - Port of Call: New Orleans
Werner Herzog
With an insightful and, sometimes, hilarious introduction by Werner Herzog and over 100 beautiful full colour photographs by Lena Herzog, this screenplay for The Bad Lieutenant - Port of Call: New Orleans is essential for fans of the iconic film maker. Hardcover, 190 pp. $42.00.
The Ballad of Jack and Rose
Rebecca Miller
In this delicately crafted, character-driven story, award-winning filmmaker Rebecca Miller has created a powerful and poetic third feature about a man who has cut himself off from a society that refuses to live up to his standards, and a young girl's sudden coming-of-age. Softcover, 127 pp. $18.25.
Batman Begins: The Screenplay
Christopher Nolan & David S. Goyer
Batman Begins, directed by the award-winning Christopher Nolan, unveils the untold orgins of the Dark Knight's emergence as a force for good in Gotham City. This volume contains the complete screenplay by Christopher Nolan and David S. Goyer, together with extensive storyboards by Martin Asbury and James Cornish, and an exclusive interview with the director, in which he reveals his cinematic vision of the Dark Knight. Softcover, 340 pp. $22.95.
Big Fish: The Shooting Script
John August
When Big Fish hit the cinemas, audiences were captivated by the film's intense storytelling and it's beautiful visuals. In addition to the complete screenplay, this book includes a foreward by Daniel Wallace, the author of the novel on which Big Fish is based, an introduction by John August, a special color photo insert capturing the film's vivid visuals, production notes, and complete cast and crew credits. "...a Southern story, full of lies and fabrications, but truer for their inclusion." Softcover, 144 pp. $21.00.
3 Films
Paul Auster
From The New York Trilogy to The Book of Illusions and Oracle Night, Paul Auster's novels have earned him a reputation as "one of America's most spectacularly inventive writers." Here, published together for the first time, are the screenplays of the three films he made in the 1990s -- Smoke, Blue in the Face, and Lulu on the Bridge. Softcover, 375 pp. $25.00.

Brokeback Mountain: Story to Screenplay
Annie Proulx, Larry McMurtry & Diana Ossana
Published together in Story to Screenplay are Annie Proulx's haunting story about the difficult, dangerous love affair between a ranch hand and a rodeo cowboy, as well as the celebrated screenplay for the major motion picture Brokeback Mountain, written by Larry McMurtry and Diana Ossana. All three writers have contributed essays on the process of adapting this critically acclaimed story for film. Also included are several photographs from the film. Softcover, 166 pp. $18.99.
Capote: The Shooting Script
Dan Futterman
This Newmarket Press Shooting Script includes the complete screenplay, a foreword by Truman Capote's biographer Gerald Clarke, a Q&A with screenwriter Dan Futterman and director Bennett Miller, 16 colour photographs, and much more. Softcover, 150 pp. $27.95.

Casino Jack
Norman Snider
If you mix Reservoir Dogs with Goodfellas and add a splash of Oliver Stone's W, you have a lethal cocktail known as Jack Abramoff. Grabbing headlines from around the world, Casino Jack tells the true crime story about the man behind the biggest scandal to hit Washington since Watergate. This screenplay also includes storyboards and the director's on-set photo diary. Softcover, 243 pp. $22.95.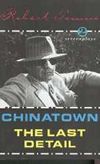 Chinatown & The Last Detail
Robert Towne
Two classic scripts by legendary screenwriter Robert Towne: Chinatown directed by Roman Polanski and The Last Detail directed by Hal Ashby. $20.95.
Cinderella Man
Cliff Hollingsworth & Akiva Goldsman
The Academy Award-winning team behind A Beautiful Mind -- comprised of producer Brian Glazer, director Ron Howard, screenwriter Akiva Goldman, and actor Russell Crowe -- reunites to tell the quintessentially American story of legendary boxer Jim Braddock. Cliff Hollingsworth joins them in his screenwriting debut. In addition to the complete shooting script, this package contains introductions from the four major collaborators, a 16-page photo album, and fascinating historical facts about Jim Braddock. Softcover, 173 pp. $24.95.

The Colour of Magic: The Illustrated Screenplay
Terry Pratchett
This lavishly illustrated volume contains the full final script for Terry Pratchett's The Colour of Magic, as well as production drawings, storyboards, blueprints and film grabs, and stills taken by leading movie photographer Bill Kaye. Hardcover, 256 pp. $39.95.