Body Work
Holistic Bodywork for Performers: A practical guide
Janet Free & Nicky Ramsay
This book gives hands-on practical guidance for some of the most important bodywork practices being used in theatres and training centres, including yoga, tai chi, Alexander Technique, Feldenkrais and Contact Improvisation. Alternative therapies like shiatsu and reflexology, which provide pathways to understanding the body's natural balancing and energy systems, are also introduced with accessible guidelines for safe practical use. Softcover, 159 pp. $32.95.

The Actor and His Body
Litz Pisk
Litz Pisk was widely regarded as the finest and most influencial teacher of modern theatre movement. Her subject, in her teaching and in this book, is a search for awareness of the emotional and psychological impulses that should, quite literally, motivate an actor in his or her role on the stage. This seminal text will be of much use to all performers working on stage or in film and television. Softcover, 95 pp. $24.00.

Laban for All
Jean Newlove & John Dalby
This book offers a simplified version of Rudolf Laban's system which can be used by relative beginners upwards. Within these pages the reader is introduced to a new vocabulary, with each term accompanied by very specific exercises designed to strengthen and deepen one's understanding of the subject. Laban for All is a thorough grounding in the most significant movement system of modern times. Softcover, 255 pp. $28.95.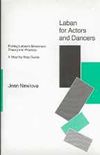 Laban for Actors and Dancers
Jean Newlove
A Handbook for teachers and students wanting a simple, practical introduction to the Laban system of movement. Softcover, $35.95.

The Body Speaks: Performance and Expression
Lorna Marshall
This ground-breaking book treats the body as a positive resource rather than a problem to be managed. Lorna Marshall enables us to recognize and lose unwanted physical habits and discover new possibilites for the body, enriching our experience and letting us communicate more effectively. Softcover, 218 pp. $23.95.

The Actor and the Alexander Technique
Kelly McEvenue, foreword by Patsy Rodenburg
Alexander practitioner and teacher, Kelly McEvenue has made a significant contribution to the material available on the subject of body training for performers. It is well designed and readable, easily useable without a coach. Performers will benefit from using this book to discover the benefits from the Alexander Technique. $17.95.




Peoplewatching: The Desmond Morris Guide to Body Language
Desmond Morris
In this captivating work of anthropology, Desmond Morris shows us how people, consciously and unconsciously, signal their attitudes, desires and innermost feelings with their bodies and actions. Actors will find this book to be a wellspring of ideas about bodily movement as it pertains to performance. Softcover, 526 pp. $23.95.